Note: This article, YouTube Pre-roll Ad Objectives and CTA, is the final installment of a 3-part Guide to YouTube Pre-roll Ads.
YouTube pre-roll ads might seem like traditional video marketing—they're certainly disruptive enough—but YouTube is not television. While advertising on the largest video platform in the world can raise awareness, the cost-per-view (CPV) of premium targeting options and intense competition for viewers' attention prohibit many startups and smaller companies from making effective pre-roll ads just for the sake of "awareness." Get immediate ROI on your YouTube pre-roll by defining measurable objectives with a CTA that funnels viewers exactly where you want them to go.
This article covers best practices for creating an effective CTA, ways to track the effectiveness of your pre-roll ad, and how you can define your video objectives at the outset of the production process to lower costs and increase ROI as soon as possible.
Define Your Pre-Roll Objective
What one thing do you want viewers to do when they see your pre-roll ad? You should be able to answer this question with a single sentence. Every video ad should have one clear objective, from app downloads to social media engagement to email signups to outright sales conversions. Once you define this single objective, the CTA practically writes itself.
Creating Your CTA: Ask, Ask, Ask
Now that you've defined your video's (one) goal, ask people to do it. Creating an effective pre-roll CTA really is that simple. If you want to increase app downloads, make a video that grabs viewers' attention with a common pain point, then promise to solve their problem with your app. End the ad with a CTA that says "Get the App."
If you want to increase email newsletter signups, ask viewers to sign with a CTA that says "Sign Up Today." It seems obvious, but it's shocking how many brands create expensive pre-roll ad campaigns that don't ask viewers to do anything specific.
Streamline The Path To Conversion: CTA Landing Pages
Great CTA copy is one thing, but in order for your video to be effective, it has to actually take viewers to your desired landing page. Again, it's shocking how many pre-roll ads simply send interested viewers to a company's homepage instead of a dedicated stand alone landing page aimed at the video's objective! This person has interrupted what they were doing to find out more about you, and you send them to the homepage?! Unacceptable.
YouTube pre-roll ads give advertisers unprecedented reach all within a customizable, scalable marketing budget, but you only get one chance to convert online viewers. Don't waste it with a lazy CTA. Funnel viewers to standalone landing pages with a single action. A few extra clicks might not seem like much, but every additional step you ask a lead to take is another opportunity for them to leave or second guess their decision.
Neil Patel defines this additional work—"friction" he calls it—as a conversion killer. "A lot of friction—different elements of a landing page conflicting against each other at the same time—can lower conversion rates. When you make it easier for people to make the right decisions, you'll get more clicks on your call-to-action button." Streamlining is essential for your video CTA and your landing page. A successful pre-roll is only as good as the path to conversion.
Pre-Roll Ads: NOT Television Commercials
One reason so many of these pre-roll ads drop the ball is because advertisers are used to traditional television commercials. It's easy to understand this confusion, considering how YouTube, Netflix, and Hulu have transformed the way we "watch tv," but it's important to treat in-stream ads and broadcast tv spots differently because they have different objectives (it's right there in the word "broadcast").
Look at the difference between two popular Reed.co.uk pre-roll ads, particularly the way they treat the CTA:
"Cute Kittens" Pre-Roll Ad (2013) — 1.8 million views
This pre-roll ad starts with an arresting image (kittens), then literally jumps out of the screen to engage viewers with a pain point, "You're procrastinating on the interweb because you hate your job." This honest, insightful message then immediately transitions to a laser-focused CTA, "Click me." The ad inserts a flashing blue arrow on the screen directing viewers to the link, and even repeats the CTA. That's as clear as a CTA gets.
What's even more interesting about this CTA is that all of this happens within the first 10 seconds of the video. Reed.co.uk respects YouTube viewers' short attention spans by jumping straight from engagement to pain point to solution. It's a masterful use of targeting, time management and a great CTA.
On a budget and ROI note, this pre-roll ad is that it's long enough (32 seconds) so that viewers will either click-thru to the landing page (the link is now defunct, four years later), or they'll simply "Skip" and watch their video. Either way, they haven't watched the entire ad or "at least 30 seconds," so Reed.co.uk doesn't have to pay for that view. It's a genius way to keep CPV down while still raising brand awareness and increasing conversions.
However, things change when you look at the CTA for a Reed.co.uk tv commercial and a version of that same commercial that they host on their YouTube page:
"Commute" YouTube/TV Commercial (2017) — 1.6 million views
One thing you'll notice right away is that this ad looks like a tv commercial—because it is. Reed.co.uk ran this as a television spot AND a YouTube commercial in 2017, and while it's engaging, funny, and builds the brand, it's not a great pre-roll ad for one simple reason—the CTA is awful.
In the tv spot version, the CTA is almost completely lacking. Sure, there's a little logo on the bottom that says "Get the App," but it's not a clickable link. That's a big problem.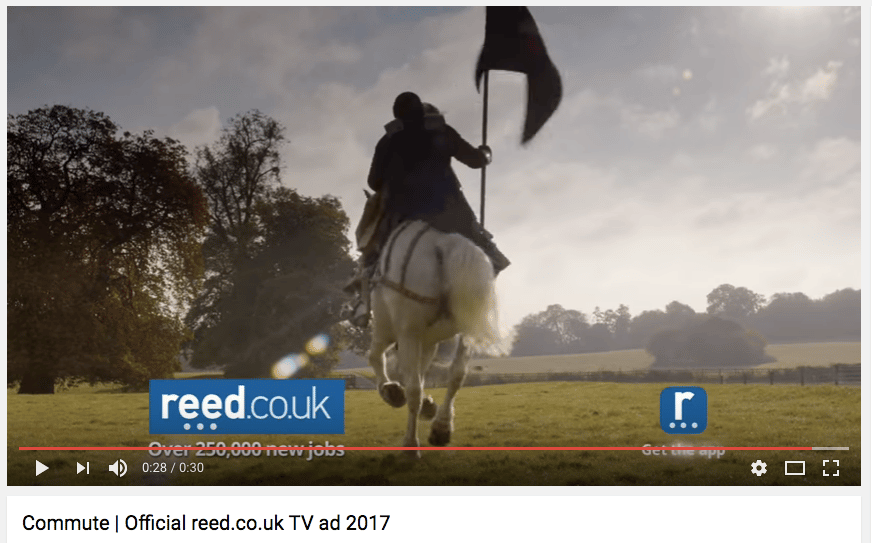 The "Official YouTube" version, also hosted on Reed.co.uk, features the same problem—a CTA that doesn't take you anywhere.
The CTA is bigger and better on the official YouTube ad, but it still doesn't function the way pre-roll ads should. Reed.co.uk goes to all this effort to engage viewers (this ad has 1.6 million views!), but doesn't take viewers anywhere at the of all that? A static CTA is a massive video marketing failure, and one that's surprising from a brand with such a solid take on engaging, time-sensitive pre-roll ads.
YouTube: Shifting Demographics
While some people argue that pre-roll ads are great for brand awareness and "top of the funnel digital marketing," in-stream ads are also incredible lead generation tools and conversion machines. Brian Carter at Convince and Convert reminds us that, "What makes AdWords [aka "YouTube"] so quick at delivering ROI is that you focus on getting people who are ready now."
YouTubers aren't just bored millennials flicking through makeup tutorials. From 2015 to 2016, YouTube use amongst adults 55+ grew 80%, and over 95% of adults 35+ use YouTube at least once a month. YouTube viewers span all ages and demographics, not to mention thousands of rabid fandoms and specific targetable interests. According to Google, "Information seeking is one of the top 3 reasons people watch YouTube." YouTube viewers are primed for action, if you give them the right CTA.
Create a short, targeted video, with a clear CTA and you'll find viewers that convert.
YouTube Pre-Roll Ads: Conversion is King
Pre-roll YouTube ads target active, engaged viewers in the place where they search for information about their interests and concerns. YouTube ads can take viewers from top of the funnel awareness to conversion in literally one click. CTAs can be big or small, but no matter what you're asking for, make it clear and you'll see results.
If you're interested in animated video production, be sure to checkout our portfolio.