If you want to increase conversions, you have to meet buyers where they're making purchasing decisions. Social media, ads, and marketing videos might bring potential buyers to your website, but once they get there, you have to close the deal. Landing page videos can help you do that.
Before we jump into ways to make your landing page videos shine, here are 3 reasons why landing page videos can increase conversions on your website.
1. Landing Page Videos Deliver Information Quickly
People want solutions to their problems, and they want them quickly. When a buyer lands on your site, they want you to convey the vital information as concisely as possible so they can quickly make an informed decision.
In particular, they need to know
How you can solve their problem

What the product or service is

How it's different from similar offerings
If you can address these three points within their first moments on their site, you'll increase the likelihood of conversion. Video makes it easy to deliver all that information and more in seconds.
In fact, just putting a video on your site announces that you value your prospects' time. In essence your landing page video says, "Here's how we can help you!"
2. Landing Page Videos Curate the User Experience
When you open a book, you know where to start and how to move forward. Websites don't always work that way. Different customers approach landing pages differently. Some like to start at the header and work their way down. Others like to scroll around until something — usually an image or video — catches their eye.
When confronted by a big block of text, a customer may skim past your value proposition and cut straight to the price of your product or service. So even though you did all the right marketing legwork, you didn't present your value proposition before confronting them with pricing.
Obviously, we're not arguing that you should hide your pricing, but it should be delivered in context. Landing page videos capture buyer attention so you can deliver your value proposition before they get distracted by the details of the offer.
3. Video Beats Images and Text
As much as we appreciate a pithy product description, it just can't match the value of video. Landing page videos grab attention, engage viewers, and increase buying intent in ways text just can't match.
It comes down to brain science. Motion holds our attention. Our brains process visuals thousands of times faster than they process text. Besides, 73% of consumers say they're more likely to buy after watching a video and 95% of B2B buyers say video plays an important role in purchasing decisions.
Best Practices for Landing Page Videos
Now that you know why landing page videos can increase conversions, these best practices will help you make sure they actually do.
Customize Your Call to Action
That last point deserves a little more attention. The CTA on your landing page video should be special. It should explicitly ask customers to take a single, specific action they can complete right now.
Since this is your landing page, buyers are pretty deep into your sales funnel at this point. While CTAs on social video might invite someone to visit your website or join your mailing list, landing page CTAs should point buyers directly to conversion.
Examples might be:
Click the button to buy now

Contact us to get started

Fill out the form and a member of our team will contact you
You can add your CTA as voiceover, in text, or as a clickable card directly in the video. To understand which option works best for your customers, you can try A/B testing powered by a platform like Intellimize. Or if you prefer, you can combine all three to make the most forceful CTA possible. Notice how the video on the landing page linked below includes both a voiceover and text CTA.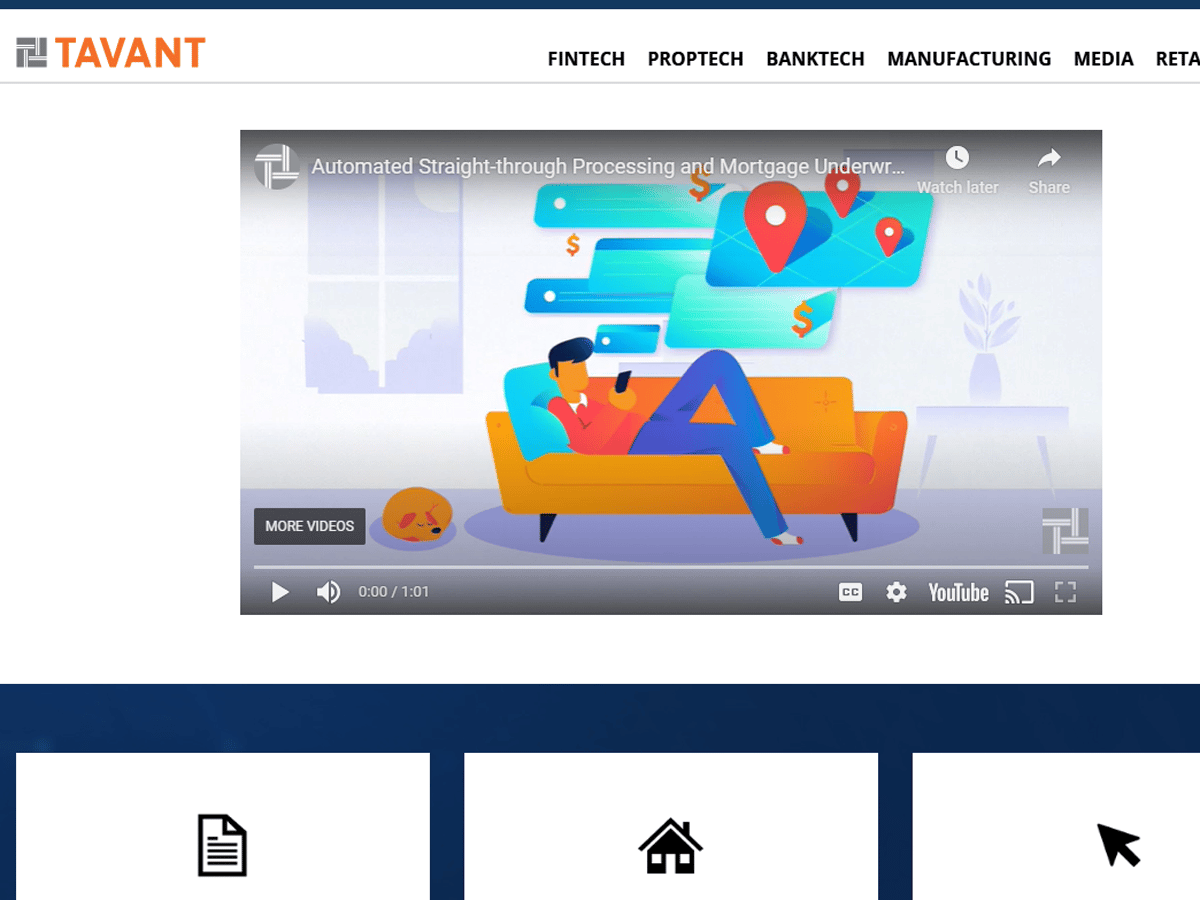 Think Beyond The Landing Page
The goal of your landing page video is to drive conversions, but some buyers will leave without completing a purchase. We've never seen a landing page with a 100% conversion rate.
The good news is that even if buyers don't convert on this visit, your message is likely to stick with them. Video is really good at increasing brand recall. It's like you've stuck a little brand ambassador for your business right inside their head.
In short, your video will stick with them. If you redirect with the right custom audience or remarketing campaign, you may get another chance to convert them.
Animated vs Live-Action Landing Page Videos
We couldn't end a conversation about landing page videos without addressing the great animation vs live-action debate. While you certainly can make a live-action landing page video, and many brands do, we think animation is a better choice.
Animation is inherently more evergreen than live-action. Fashions in animation don't change as quickly as clothing and hairstyles. Animation has a timeless quality, which means your animated video will feel fresher for a lot longer.
So in a tech-accelerated world where everybody seems to be looking for the "next big thing," animation stays relevant over the long-term. That's no small feat.
Landing page video explains your offering in seconds, engages prospects on their terms, and performs better than text or images. Get started with landing page video today and see what video can do for your conversion rates. Contact the video experts at IdeaRocket to start increasing conversions with landing page video.