YouTube ads can be a cost-effective way to reach your ideal customers. After all, YouTube is one of the largest video platforms on the planet with 1.7 billion unique monthly visitors. Effectively advertising to all of those people takes different types of ads in different places on the platform. We'll help you decide which types of YouTube ads are right for your brand.
Types of YouTube Ads
Depending on how you classify them, YouTube has about six different video ad types. Several of these have changed over the last few years as Google consolidated ad types or offered new formats. For example, in early 2022, Google got rid of TrueView ads in favor of skippable in-stream ads.
One thing remains constant, you do need a Google ads account to place your ads. Here's the most up-to-date info on YouTube video ad types for 2023.
1 – Skippable In-Stream Ads
This is the most common type of ad. They often appear at the beginning of a video, but can also show up in the middle or at the end. Skippable ads can also appear anywhere in the Google Display Network.
You can make skippable video ads as long as you want them to be, but keep in mind that YouTube allows viewers to skip your ad after five seconds. This means people may not see the whole message. Make sure you hook your viewers early because those first few seconds count!
Your cost for skippable ads is based on the number of views. You're charged for a "view" if the user watches at least 30 seconds of your video or interacts with the ad. If the ad is shorter than 30 seconds, you'll be charged if the viewer watches the whole video.
Skippable ads are useful for almost any marketing goal including sales, leads, website traffic, or brand awareness. They're great at sharing your message while letting viewers control their ad experience.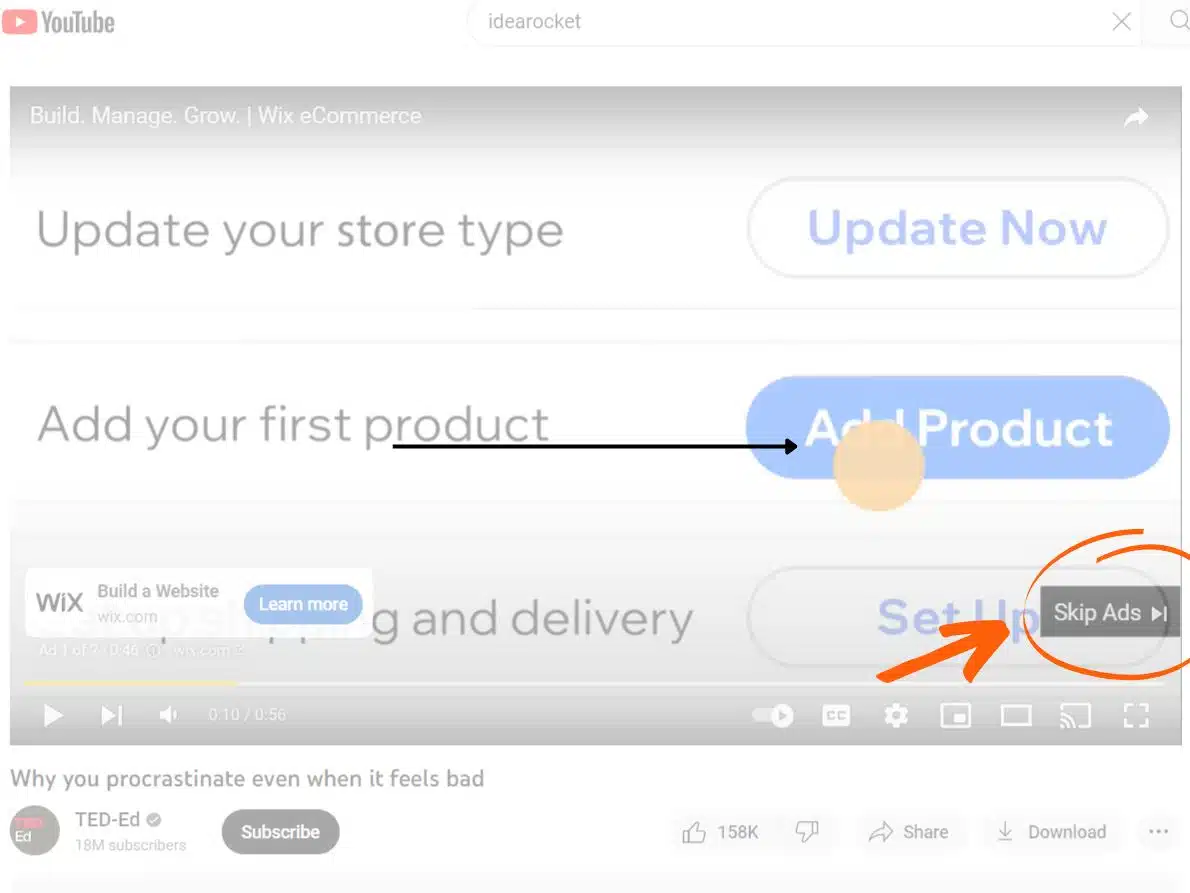 2 – Non-Skippable In-Stream Video Ads
As the name implies, viewers don't have the option to skip these ads. Videos for non-skippable ads are 15 seconds or shorter. They show up in all the same places as skippable ads.
Because users can't click past them, you're paid by impressions instead of views. So you'll be charged anytime your non-skippable ad is shown.
These ads are ideal for brand awareness and reach. But, be careful not to annoy viewers. They came to see the video they wanted, not your ad. Choose your audience carefully to make sure your brand is something they'll be interested in.
3 – Bumper Ads
Bumper ads are short, non-skippable pre-roll ads. They're only six seconds long at most, so your message needs to be short and targeted. Think of them as teaser videos to snag attention. Your goal is to make someone curious enough to visit your site or investigate your brand.
Bumper ads are pay-by-impression, just like longer non-skippable ads. The advantage is they're less disruptive than longer-format ads. Use them for brand awareness and reach.
4 – In-Feed Video ads
Formerly known as video discovery ads, these ads show up alongside related videos. That means they appear as part of YouTube search results, on the YouTube mobile homepage, or at the top of the related videos list on watch pages.
These ads appear as a thumbnail and title with no more than a line or so of text. Well-chosen titles and powerful thumbnail images are the only way to succeed with in-feed ads.
You only pay for this ad type when viewers click your ad. This format is a good choice if your goal is product or brand consideration because it can introduce new people to your brand.
5 – Outstream
Outstream ads are optimized for mobile and only appear outside of YouTube. They're called outstream to differentiate them from instream ads. These ads can be different sizes depending on where they appear.
They start playing with the sound off, so make sure your video is effective without sound. Many viewers won't bother to turn up the volume just to hear your ad.
You're only charged for outstream ads when someone watches your video for at least two seconds. That's a pretty short watch time, so make sure your core message is clear immediately. Use these ads when you want to reach viewers who aren't on YouTube or when you want to expand your reach beyond the platform.
6 – Masthead
Masthead ads are special videos featured on the top of the YouTube home feed. You can only get one of these ads by working directly with a Google sales representative. They're more expensive than other ad formats and you'll pay per thousand impressions.
The masthead will autoplay for up to 30 seconds without sound and you can include up to two companion videos. Mastheads are an advanced strategy, so only use them if you're already comfortable with YouTube ads.
Use this ad format when you have big news to share. Think a major sales event, new product, or special service.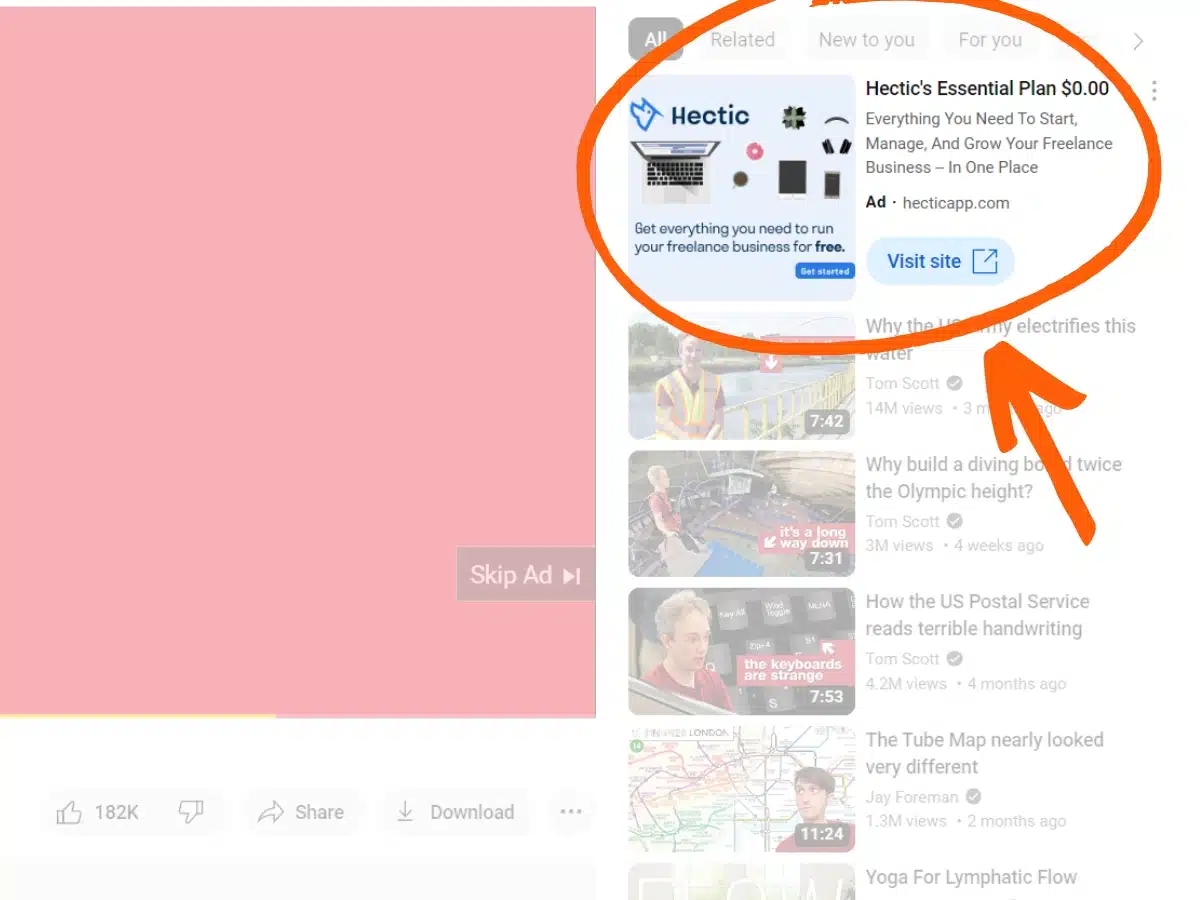 7 – Overlay Ads: Non-Video YouTube Ads
This is the only YouTube ad type that doesn't feature video content. They are text and still images that appear along the bottom 20% of the screen while a video plays. These types of ads do not display on mobile devices and you will be charged by impression.
You can also use overlays on your bumper and non-skippable ads. These CTA overlays are clickable banners that can encourage users to act while watching your video.
Keep in mind that overlay ads are a lot like a traditional display ad. They're less eye-catching than video and users may not be paying attention, since they're focused on what they're watching.
YouTube Select
All these ad types offer you lots of choices, but you have even more decisions to make. One of these is which channels you want to feature your ads. YouTube Select, formerly known as Google Preferred, offers bundles of content lineups and programs that can help you target specific audiences.
These bundles help you maximize scale while staying relevant. They include placement of Google Ads, display ads and video. You can even build custom plans with help from a Google Ads Specialist.
Custom CTAs for All Types of YouTube Ads
Speaking of custom. Don't forget to add a clickable call-to-action on all types of YouTube Ads. The most popular CTA asks viewers to visit a landing page on your website. If you go this route, make sure your website is optimized for mobile traffic and you have a solid landing page in place. The call to action is fully customizable and you can even run multiple campaigns with unique CTAs.
The Bottom Line: YouTube Ads Work
Advertising on one of the biggest ad platforms in the world is a smart play for many brands. Now that you have the basics, you're ready for a deep dive. Check out our ultimate YouTube video ads guide for all the info you need to make the most of your ad campaign.
When you're ready to create your video ad, we're here to help. Contact the video ad experts at IdeaRocket to get started.