If you want to build brand awareness, an animated video is an essential part of your marketing toolkit. It's one of the best ways to launch your message into orbit and tell potential customers what you're about. A well-executed video can streamline your sales process by giving customers a glimpse of what your brand really is. Plus, it can help your website achieve a top rank in Google by keeping customers on your site longer.
With all of these benefits, you may wonder why every business doesn't have an animated video to build brand awareness. But like any other marketing strategy, you can't just throw a video together and move on. You'll get the best brand awareness boost if you bake these five essential ingredients into your animated video design.
1. Start With Your Customer Persona
Before you make your animated video, think about who you're making it for. If your goal is brand awareness, you're making a video for the top of the marketing funnel. The viewer may be someone who has never done business with you before or doesn't know much about your brand.
They may not know you, but you should know them. Think about who you would like to reach. Maybe your core customers tend to be males in their 50's and you want to expand that audience to include more women, or younger men. You might target viewers in a new location, demographic or income bracket. Get really clear on who exactly this video is for.
For example:
Dave, the 26 year-old software engineer from Northern California. He likes dry humor and spends his online time answering tech questions in the r/techsupport subreddit. He has one kid and another on the way and worries about whether he can afford private school.

Susan, a 38 year-old marketing executive that rock climbs in her spare time. She has two dogs and spends most of her online time on Pinterest. She's childfree by choice, hates to cook, and enjoys craft beers. She worries about sustainability and her carbon footprint.

Alexis, the 19 year-old travel junkie that lives for the next photo opp. She's taking a gap year from college and spends all her online time on Instagram or TikTok. She knows she should be worried about the future, but right now she just wants to have a good time.
Each of these buyers will respond best to a different animated video. Different animation styles, humor, and characters will resonate with them. If your ideal customer is Dave, creating a video that Alexis loves, probably isn't going to help you.
Once you have your persona, model the characters, style, setting, and tone of your video to target these buyers. Of course you want to explain your product or service and let your brand shine through, but every decision you make should start with the ideal customer in mind.
2. Infuse Your Brand Style
If you don't already have video branding guidelines, now is the time to make them. Viewers should be able to spot your brand in every frame of your video. That doesn't mean you have to cover everything with logos. You can be more subtle than that. Including your brand colors, symbols, characters, typefaces, and graphic elements can tie your video into your overall brand style.
Of course, your logo should be in there somewhere. At a minimum, try to make sure it shows up sometime in the first few seconds and at the very end.
Attention spans are short, especially on social media. If you stick to a consistent brand style, people will be able to instantly associate your brand with the video, even if they only watch the first few seconds.
3. Choose the Right Animated Video Style
Animation styles can say a lot about your brand. Which one you choose depends both on your ideal customer and on the message you're trying to convey. At IdeaRocket, we tend to sort animation into five distinct style groups:
Whiteboard – perfect for explaining complex concepts or telling stories with a deliberate sequence of events

2D – classic-looking images that let emotionally engaging stories shine through

3D – ideal for stunning effects, intense action, and realistic motion

Motion Graphics – tends to rely on abstract or simplified shapes, great for simple storylines

Stop Motion – uses photographs of physical objects and tends to be time-consuming, can work for brands with a classic or retro feel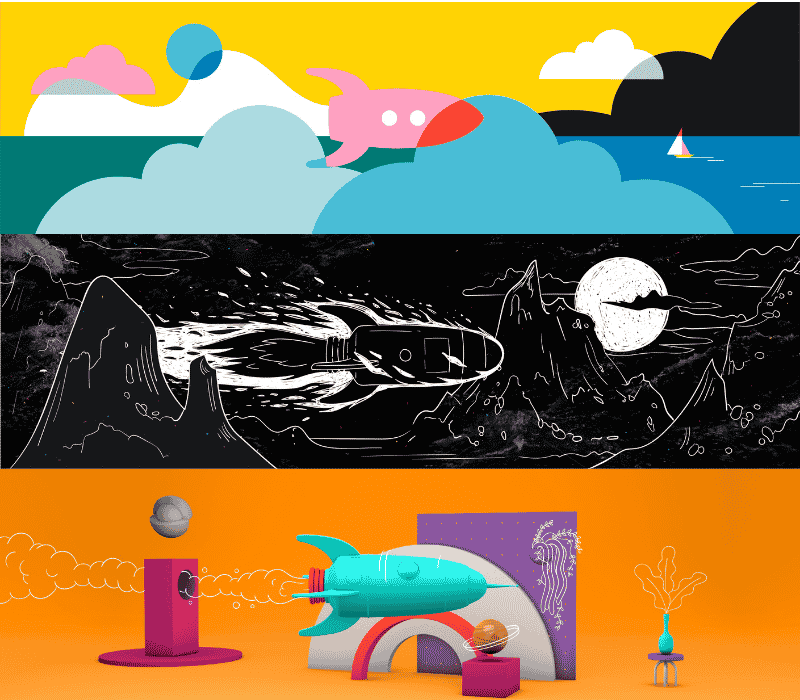 Choose the animation style that fits both your brand identity and your message. While any of them can help build brand awareness, each style has a unique feel.
4. Build Brand Awareness With a Social CTA
Your video helps build brand awareness when people share it. Sharing extends your reach beyond your existing audience. Plus, you get an extra boost of social proof because the new viewer is getting a recommendation from a friend or colleague that they trust.
Don't rely on chance to decide if your video gets shared. The formula for creating a viral video is complicated and ever-changing. Instead of wasting time chasing the next big trend, be as helpful and entertaining as you can while staying true to your brand. Then add a clear CTA that invites viewers to like and share.
If your video is short, focused, and useful, or entertaining, people are likely to share it. But some will need the explicit nudge asking them to take action. Make it easy for them by telling them exactly what to do next. Of course, if your budget allows you can also pay for advertising placements that extend your reach even further.
5. Place Your Video In Front of Your Audience
Speaking of advertising placements, let's talk about distribution. Sharing your video in the right places can help build brand awareness by making sure it gets seen. After all, a video can't work if no one watches it. Start by sending it out to your email list and posting it to your social media profiles. But if you stop there,you may not reach much further than your current audience. Since the goal here is building brand awareness, you probably want to reach out. That's where paid promotion and SEO come in.
There are dozens of places you can pay to play your video including social media platforms, YouTube ads, OTT and streaming platforms, and even traditional TV. You can choose between them by returning to your audience personas. Where are these people likely to spend their time? Where can you place your animated video so they will see it? This isn't necessarily about finding the platform with the most people. It's about finding the platform with the most members of your ideal audience.
If you don't have a big budget for video promotion, you can still improve brand awareness by making your video more discoverable. Surround your animated video with headlines, descriptive text and links that contribute to overall search engine ranking. And don't forget the transcripts. These can make your video more accessible to people and search engines.
6. Be Authentic to Build Brand Awareness
The best animated video to build brand awareness is one that authentically represents your brand. You want people to be aware of your authentic brand, not a manufactured image that you think they want. If you do decide to capitalize on a trend, make sure it's one that makes sense for your brand. This animated video is your chance to show customers who you are. Don't waste it.
A great animated video that builds brand awareness with your target audience can take your business to the next level. Creating a great one takes planning. For help getting started, contact the animated video experts at IdeaRocket.