A professional animated video is just one part of a successful marketing strategy. Most brands also share their marketing message in other formats. Fortunately, there are plenty of free content creation tools that will let you make your own graphics and quick social media videos.
With so many tools to choose from, your real challenge might be deciding which one is right for you. That's why we've gathered our six favorite content creation tools in this handy list. Each of these tools is easy to learn and use, even if you're not a professional graphic designer.
The Best Free Visual Content Creation Tools Online
These free content creation tools can help you make content for your website, landing pages, newsletters, social media posts and blogs. They all offer free plans, but you can upgrade to paid options if you need a more robust solution.
1. Canva – Best Content Creation Tool to Make Your Own Graphics
Format: Cloud-based & Mobile App
Canva is easily the best all-around content creation tool on the internet. This free to use online graphic design platform is one of the most intuitive, easy to use, and approachable tools we've ever used. You just create an account, pick from dozens of pre-formatted templates, and start designing. It is one of the most intuitive, easy-to-use, and approachable tools I've ever encountered. You just create an account, pick from dozens of already formatted templates for everything from eBooks to twitter banners, and start designing. It's honestly bonkers.
Canva comes preloaded with thousands of searchable images (that's a big deal), fonts, templates, backgrounds, and all the tools you need to make each design your own. It's fully customizable—change the opacity, size, shape and look of any element in these designs while also adding and building out your own campaigns for seamless (and consistent) branding across campaigns. And you don't have to be a designer to use Canva.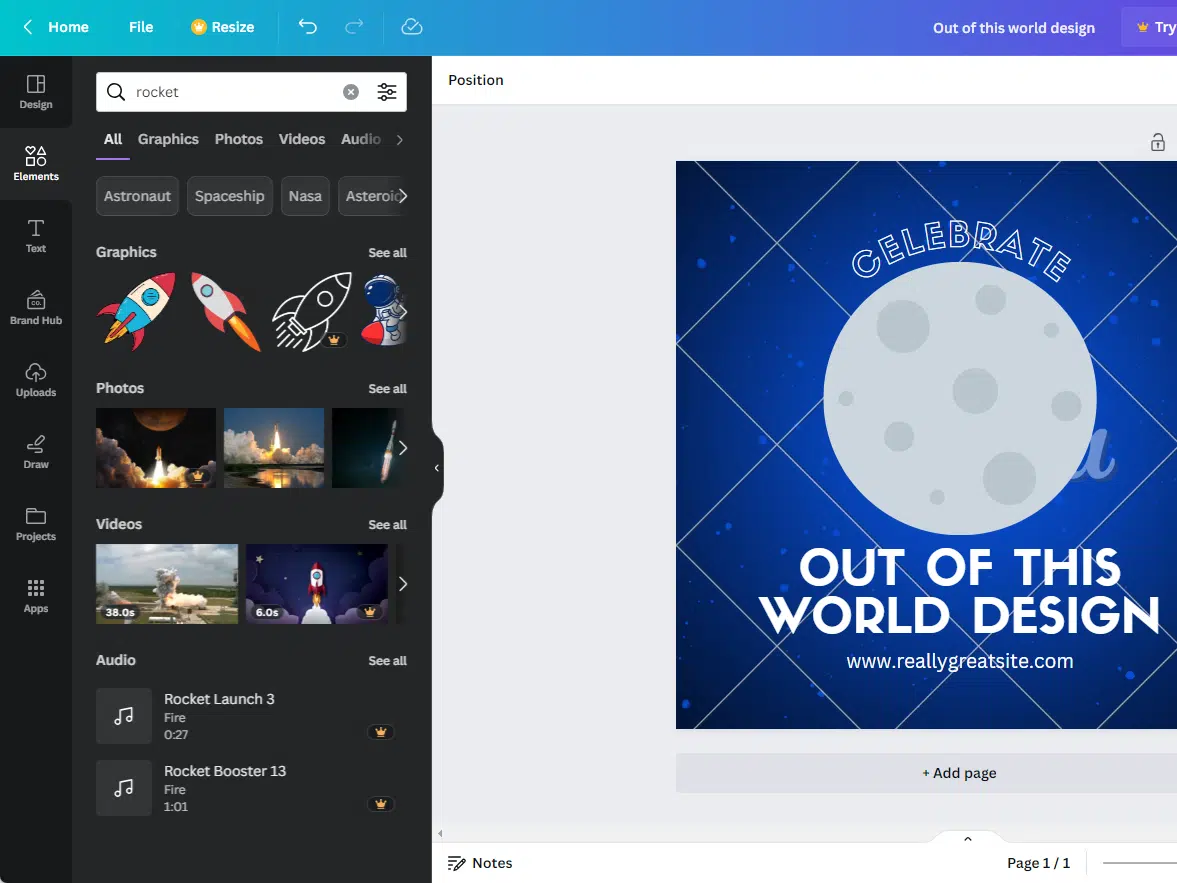 Canva comes preloaded with thousands of searchable images, fonts, templates, backgrounds, and graphics. Most elements let you change opacity, size, color and more, for truly customizable designs. And you can upload your own photos, logos, images, and graphics to add to existing designs or start from scratch.
Canva also offers an optional suite of $1 add ons in practically every graphics category. If you can't find the perfect image in their free options, it's only a few bucks to get the look you want. While Canva does offer a mobile app, the functionality is a little clunkier on a small touch screen. To get the full experience, try the web version.
If you try only one content creation tool on this list, try Canva. It can do almost everything these other tools can do and is easy to learn.
2. WePik – Best Way to Create Business Cards
Format: Cloud-based
Wepik is another user-friendly and free visual content creation tool that you should definitely check out. Wepik has a wide range of customizable templates and graphics that are perfect for creating beautiful designs on your own. A particularly handy feature of Wepik is its capability to design your business cards. You can choose from a diverse array of stylish templates, or design from scratch with your very own unique ideas. Even if you're not a skilled designer, Wepik makes it easy to produce professional-quality designs. Import your logos, choose matching color schemes, customize text and layout – the options are endless. Wepik is not just limited to business cards; you can also create social media posts, blog banners, posters, invitations, and more. This makes Wepik an excellent, versatile tool for all your graphic design needs.
3. ColorPick Eyedropper Plugin – Most Useful Plugin
Format: Chrome Plugin
Have you ever seen a color on a website and thought "That's exactly the color I've been looking for"? If so, the ColorPick Eyedropper plug-in is about to become your new favorite content creation tool.
With Eye Dropper, you can easily grab and duplicate any color from any website in seconds. It's incredibly useful for keeping your branding consistent and borrowing color palettes from sites you like.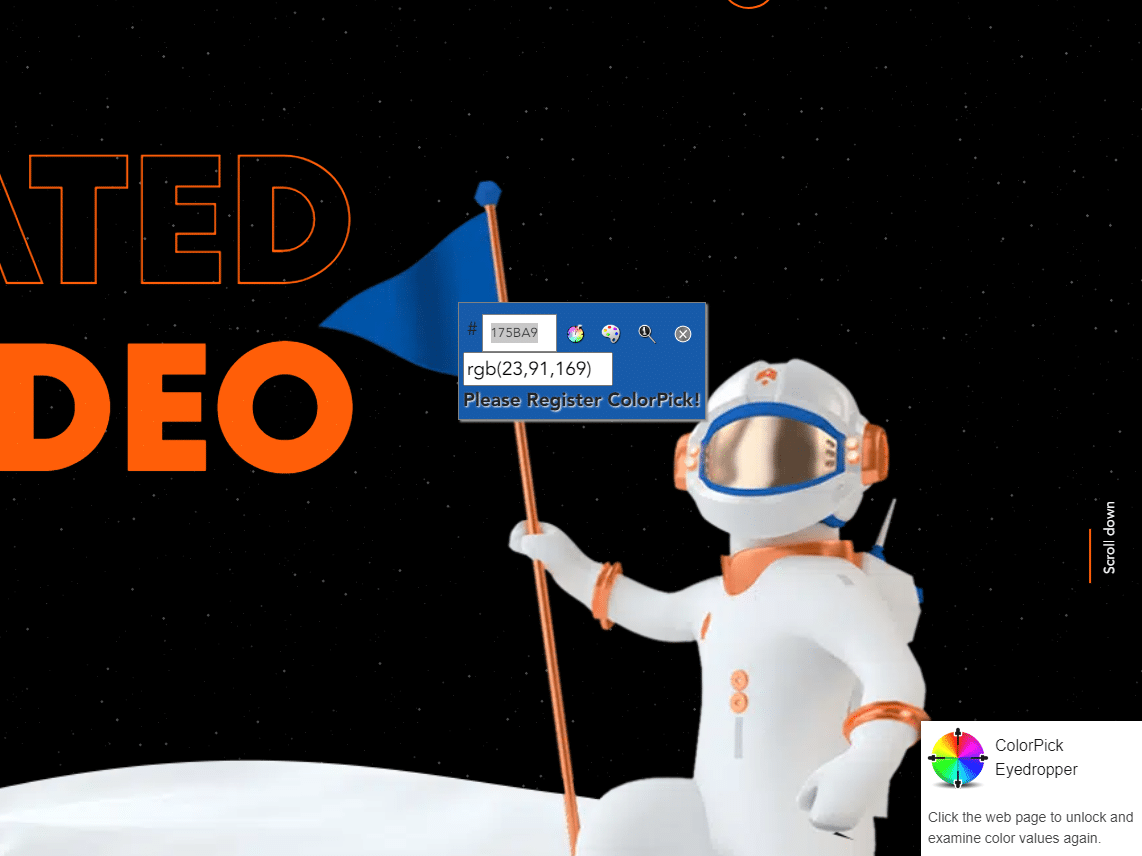 This simple tool serves up the HEX color code and rgb color value for any color you can click. Then you can copy and paste these codes into a tool like Canva to use that color in your designs. ColorPick will even recommend color palettes based around the color you've chosen.
4. Piktochart – Best Free Infographic Maker
Format: Cloud-based
Piktochart has the same clean look and easy to use feel as Canva with a tight focus on infographics. I'll admit that while Canva has infographic templates available to use, they can be tedious to use when you want to include a significant amount of data. Piktochart is the solution to creating information rich infographics that people will enjoy looking at.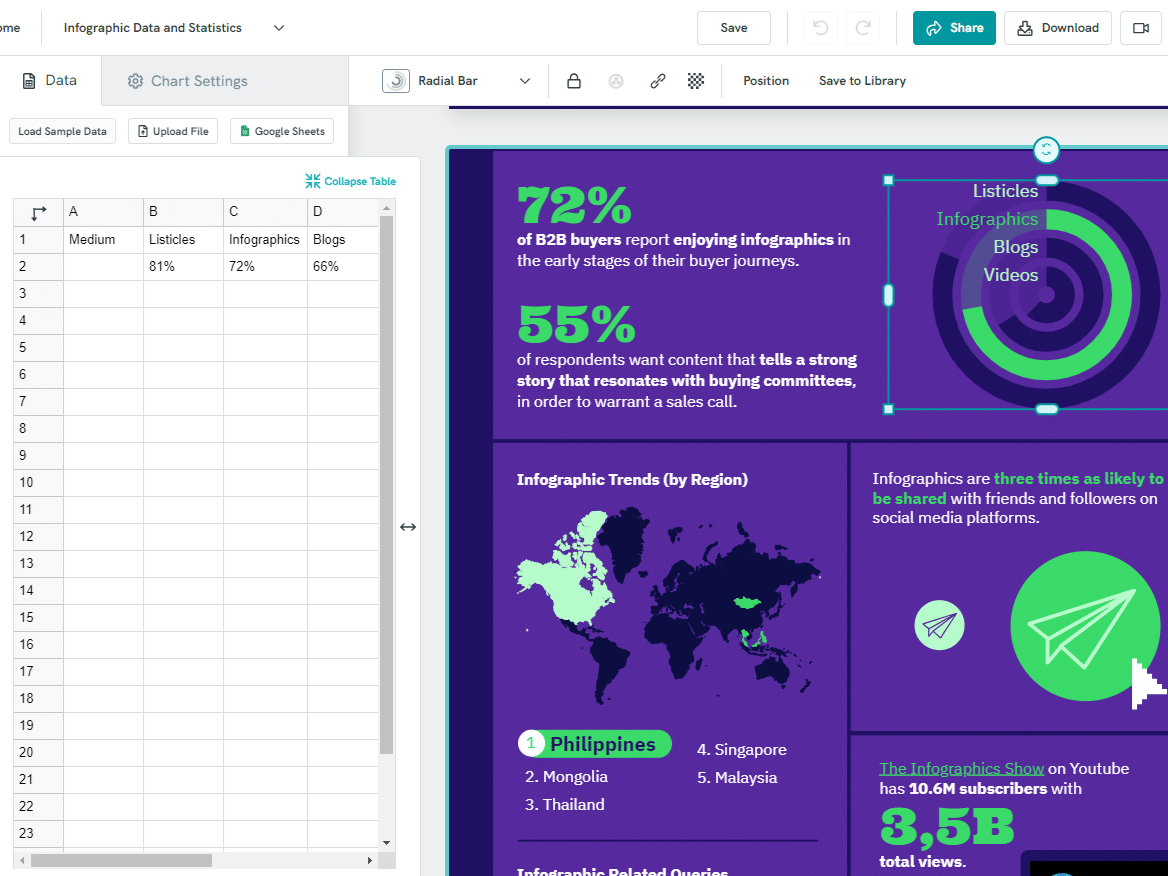 Simply choose from hundreds of templates, adjust the font, color, layout, and design, then pick a chart type. You can enter your data directly, upload a file, or pull data from a Google Sheet. Then Piktochart will turn that boring spreadsheet into an eye-catching graphic.
You can also use Piktochart for other data-heavy content, including reports, diagrams and presentations. Their design library is a little less robust than Canva's, but Piktochart is the best choice for sharing data visually.
5. BeFunky – Best Online Photo Editor
Format: Cloud-based
BeFunky is a free online photo editor that just about anyone can use. With this tool, you can easily edit your photos and add text, graphics, effects, filters, and much more with a single mouse click. BeFunky offers a wide variety of features, including a background remover, photo enhancer, cropper and resizer, cartoon and sketch filters, and an object remover.
And if you aren't starting with anything to edit or you simply want to add something to your design, you can do so quickly thanks to the tools' numerous templates, stock images, and vector graphics. You can even make collages with layouts designed especially for social media.
Whether you want to edit your current images or start from scratch, BeFunky delivers, making it one of the most versatile graphics tools available online today.
6.  Phonto – Quickly Add Words to Photos
Format: Mobile App
If you want to create social media posts quickly, Phonto is a must-have tool. It lets you quickly layer text and emoji onto images.
Select a photo from your phone's image library, type some text and choose a font. Then style and size your text. When you're done you can download the image to your image library or share directly from the app.
If you want to add text to videos, you can download the Vont app from the same developers. These two tools together make content creation as simple as possible.
7. InShot – Best Quick Video Editor for Social Media
Format: Mobile App
A professional animated video may be the cornerstone of your content strategy, but you can supplement with shorter live-action videos on social media. The InShot mobile app lets you quickly trim clips or combine clips and videos into something new.
It has everything you expect from a basic video editor –  text, music, stickers and filters. You can also use the canvas feature to resize your video aspect ratio for common social media platforms including Instagram, TikTok, and YouTube. 
What If You Don't Want to Make Your Own Graphics?
Even with the best tools, making graphics takes both time and an eye for design. So what should you do if you can't or don't want to make your own graphics? In that case, free stock image sites might be the right choice for your brand.
Stock image sites bring together a library of content that you can use for blog post feature images, social media posts, and other content. Just make sure that you're using a reliable site with clear use policies. Here are a few of our favorites.
Unsplash
With more than one million free images, Unsplash is our go-to for stock images. Their photos are free to download and use as long as you're not directly selling the photos. Type a keyword or two into the search and see what you can discover. Some of the photos that pop up may have an Unsplash+ tag. These images are earmarked for members only. So you'll need to pay a monthly fee if you want access to those.
Pexels
Pexels includes both stock images and stock videos. They're partnered with Canva, so you can actually edit pexel photos directly in the Canva app just by clicking the "Edit in Canva" button. Another handy feature on pexels is their custom dimensions tool. If you click the down arrow next to the Free download button, you can enter custom dimensions and the image will be automatically resized for you.
Flaticon
If you need icons or stickers, flaticon is an easy solution. They have more than 11 million free icons and stickers to download. Search for Icon Packs to get a consistent look that you can use across your website or document. The catch is that you need to attribute the creator of the icon to use free images.
What Free Content Creation Tools Can't Do
These free tools can help you create social media posts, edit photos, and even make quick videos. Yet, none of these tools match the power of a single professionally produced video. Don't let the cost of an explainer video hold you back. Many brands find that it's well worth the investment.
Remember, a picture may be worth a thousand words, but a video is worth 1.8 million words. So when you're ready to get started on the centerpiece of your content strategy, contact the video production experts at IdeaRocket.