The social media landscape is always shifting. A smart marketer keeps an eye on changing trends but doesn't necessarily spend time and resources to create marketing strategies for every platform. Lately, the big question is whether businesses should use TikTok for marketing.
The platform has experienced a meteoric rise in recent years, but it's also been at the center of a string of controversies. With new challenges arising in 2023, marketers who already use the platform may be wondering if it's time to adjust their strategy. Those who haven't yet tested the waters on TikTok may worry they missed their chance.
We'll explore what you need to know about TikTok in 2023 to make an informed decision.
Who Uses TikTok?
Young audiences are traditionally the first to embrace any new social media platform. TikTok is no exception in that regard and the app's frenetic pace and focus on self-expression seems custom tailored to Gen Z. Business of Apps reported 1.6 billion active global users at the end of 2022.
More than 34% of TikTok users are between 18 and 24 years old. Nearly another 30% are between 25 and 34. Marketers, especially video marketers targeting that demographic may well wonder if they should be using TikTok for marketing.
To answer that question, it's important to know some of the history of this social media app.
A Brief History of TikTok
TikTok lets users create and share content in a vertical video format. Each piece of content is 3 minutes or shorter. In early 2022, the app announced the option for 10-minute videos, but it doesn't seem to be a universal feature. Users can add sounds and song snippets as well as effects and filters.
In China, where the smartphone app originated, TikTok is known as Douyin. It emerged on the international stage after merging with Music.ly, another video sharing app, this one dominated by lipsync videos. That was in November 2017.
By November 2018, TikTok had outperformed Instagram, YouTube, and Snapchat as the top free app in Apple's app store with 80 million downloads. By February of 2020 it had topped 1 billion. Of course, this doesn't necessarily mean that TikTok is more popular than those platforms. It just means that a lot of people were downloading it in a short period of time.
Users from all over the world flocked to the platform, pushed, at least in part, by the boredom of lockdown. The first challenges followed swiftly. India banned TikTok in 2020. Over the next few years, TikTok repeatedly made headlines, both for its massive growth, and due to concerns about privacy and content.
TikTok in 2023: Privacy and Security Challenges
The early months of 2023 have been contentious for TikTok. Lawmakers in the United States, Canada, and Europe are all working to restrict access to the app. Half-a-dozen governments have banned the app on government devices and some businesses, including college campuses, are doing the same.
In March, a committee of the U.S. House of Representatives backed legislation that would ban TikTok from all devices in the country. In April, the UK's data watchdog levied a £12.7 million fine against the platform. Issues of privacy and security are behind all of these challenges. Some government officials worry that China could use the app to gather intelligence about citizens of other countries.
The mechanics of how exactly a ban would work are still up for debate. But all this controversy raises an important question: should brands be advertising and building profiles on the embattled app?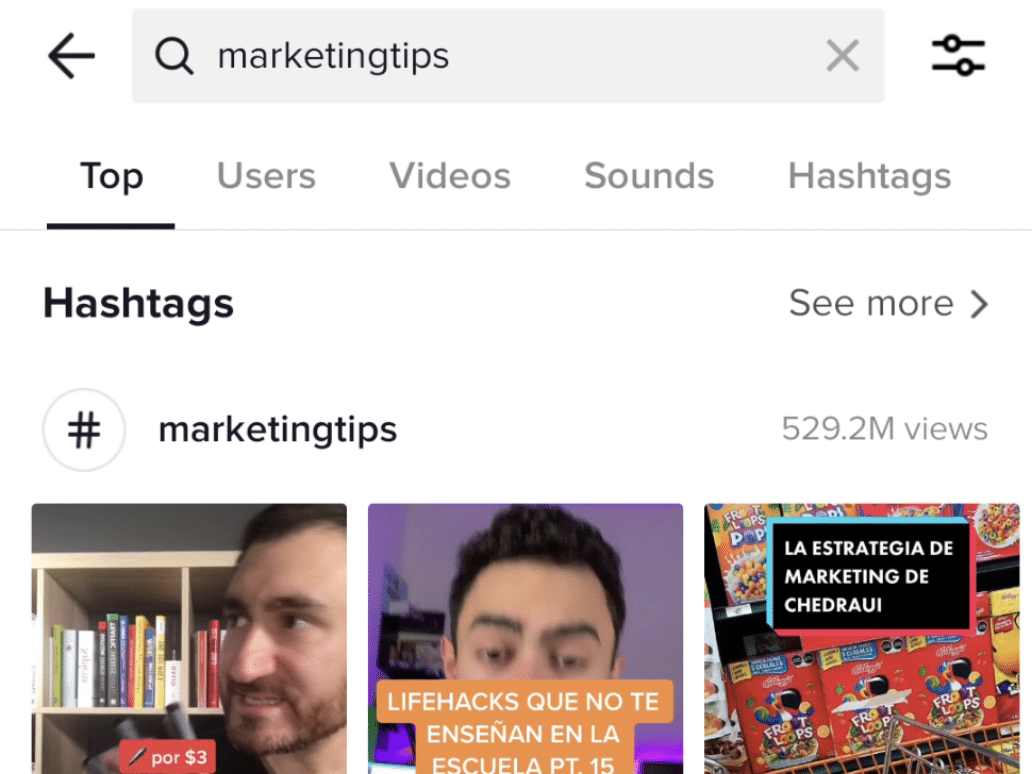 Should Your Brand Use TikTok for Marketing?
Every brand will have to decide if marketing on TikTok is worth the time, effort and cost. In general, you should consider TikTok if your brand meets all or most of the following criteria:
You're targeting younger audiences (under 30)
You want to be seen as hip, edgy and authentic
You're willing to experiment and test new methods
You're marketing to consumers, not businesses
At this point there's not much of a market for business-to-business advertising on the platform. So B2B marketers should probably spend their resources elsewhere.
Your brand should avoid TikTok if:
You're targeting older audiences
You want to be seen as reliable and established
You value privacy and security over experimentation
You're marketing to businesses
This hashtag challenge promoted Taylor Swift's song ME! by encouraging users to recreate the dance in their own videos. Because Taylor Swift makes music that generally appeals to younger audiences, TikTok is the ideal marketing platform for this effort.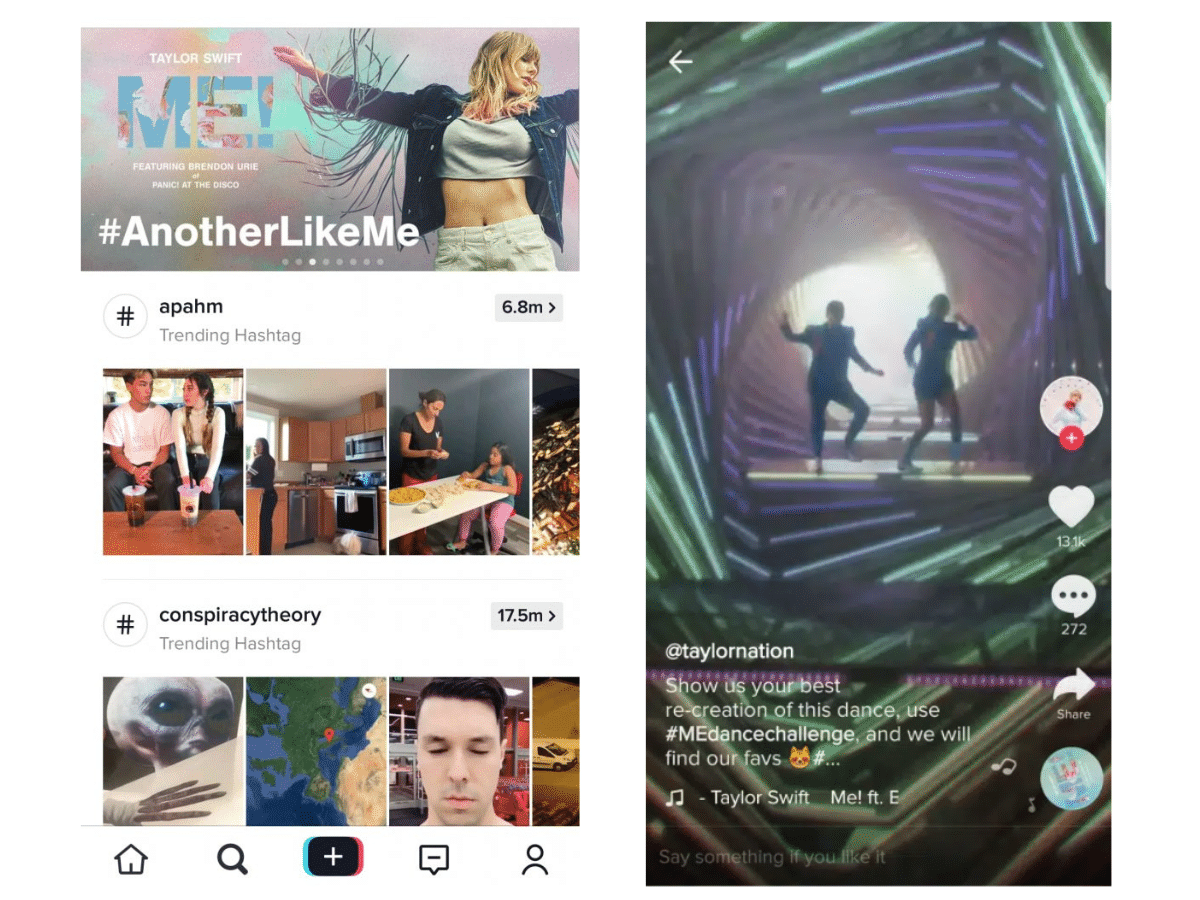 If you do choose to use TikTok for marketing, the best way to protect your brand investment is to not put all your eggs in the TikTok basket. Make sure you're building a robust marketing strategy across multiple platforms.
How To Use TikTok For Marketing
A few daring brands made forays into TikTok for marketing in the first year or so of TikTok's global incarnation. At that time there were no native advertising functions. Brands that wanted to explore the platform were limited to two options: either use influencer marketing or create a user profile for their brand and rely on organic reach.
Both strategies persist today, despite the introduction in early 2020 of paid advertising options. Each of these methods have benefits and drawbacks.
Influencer marketing is particularly effective when targeting Gen Z, who are the dominant demographic on TikTok. A marketing charts survey found that 40% of 18 to 34-year-olds are more likely to trust what an influencer says about a brand than what the brand says about itself.
While influencer marketing can be effective, it is less controlled. Your brand identity becomes wrapped up with a personality, who may or may not uphold all of the same values.
Creating a brand profile on TikTok allows for more control, but can also be a costly enterprise. Users on TikTok expect authenticity. A funny or creative video can go a long way, but anything that feels like advertising is likely to be ignored.
Paid Marketing Options
Despite the focus on authenticity, paid marketing options do exist. Brands can choose from:
In-feed video ads that appear between user-generated content on the "For You" feed. These are skippable, full-screen ads with call to action buttons.
TopView showcases your video in a full-screen ad that appears at the top of the "For You" feed when the user first opens the app.
Spark ads allow you to boost different types of video including those made by your brand and those that mention your brand.
Hashtag challenges, encouraging users to make a video using a promoted hashtag.
Branded Effects are shareable special effects, filters, and stickers that users can add to their own videos.
Like many social media platforms, TikTok relies on a pay-per-click model for in-feed ads (although pay-per-impression may also be an option). Other advertising placements are time-based. For hashtag challenges you'll pay based on the length of promotion, not based on engagements.
Notice that this video from Truebill includes a tiny "sponsored" tag in the bottom left corner of the video. This marks it as an in-feed video ad.
To achieve organic success on TikTok your videos will need to be funny, informative, or both. But a viral video on the platform can quickly spread beyond TikTok. Unlike other social media platforms that make it difficult for you to share content with non-users, TikTok has a built-in video download button. Users can export and email your videos or post them to other social media sites (all with the TikTok watermark).
TikTok's relative size and youth means its targeting and measurement tools may not be as robust as those on more established platforms. But they've evolved quickly in the last six months or so.
Key Considerations for Using TikTok for Marketing
TikTok has gathered a passionate following among young audiences. Brands that are willing to be authentic and maybe even a little bit silly might be able to capture the attention of this audience.
When considering the potential return on investment, brands should weigh TikTok's reputation as well as their own likelihood of success on the platform. Whether you choose to market there or not, it's certainly worth keeping an eye on TikTok.