What do great ideas and fishing have in common? According to filmmaker David Lynch: a lot. And in an interview with The Atlantic, he beautifully and eloquently describes why. The audio from that interview was plucked and now serves as the centerpiece of an animated short that's bound to engage, inspire and, ideally, help you better "catch" ideas.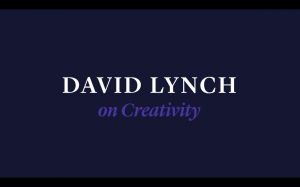 For those unfamiliar with David Lynch, he's a renowned filmmaker whose surrealistic style has been captivating (and confusing) viewers since 1977. He's directed six Oscar-nominated films (including The Elephant Man, Blue Velvet and Mulholland Drive), created cult TV shows (like Twin Peaks) and crafted dozens of shorts, music videos and media projects.
Honors aside, Lynch's work—known for its dream imagery, non-sequiturs and moments of vivid gore—has a reputation for puzzling audience members. To the point where some viewers must imagine that his idea-generation process involves throwing darts. Which makes it all the more interesting to get a glimpse inside his head and an animated look at his creative process.
Credits:
Jackie Lay (Design, Direction, Animation)
Katherine Wells (Sound Edit)
Raymond Schillinger (Managing Producer)
Kasia Cieplak-Mayr von Baldegg (Executive Producer)
3 Things We Loved About This Animated Short
1. Extended Metaphor = Explainer Video Gold
We often talk about how metaphor can be a valuable tool for animated storytelling. But rarely do we talk about extended metaphors; especially those extended to the point that they are thread throughout the entire story. And the reason is pretty simple: it's very difficult to execute!
The more you extend a metaphor, the more eggs you're putting in its basket (which, I know, is a metaphor; but don't worry, it stops right there). Meaning that if the audience doesn't buy in—to your use and/or depiction of the metaphor—each recurrence only serves to undercut the impact of your animated story. So…what makes it work so well here?
First and foremost it's the audio track. If narrator (David Lynch) didn't continue to intermittently compare ideas/fishing, the visuals would likely begin to feel a bit amok.
In addition to the audio, animator Jackie Lay does a wonderful job of cleverly deploying the metaphor into her work. Let's look at a couple of the ways in which she pulls it off:
Seconds into the animated short, Lay immediately creates a connection between David Lynch and the metaphor. Not in some kind of CUT TO way, but she literally bridges the two (speaker and notion) with this animated sequence right here:
From there, and throughout the entire animated short, Lay does an excellent job of evolving the metaphor. Not only does this avoid visual stagnation, but it also creates a sort of narrative momentum that fortifies the overarching thesis:
2. The Subtle and Surreal Moments Invoked In This Animated Short
As with David Lynch's films, there are little moments throughout this animated short that don't seem to belong. Except they do. If for no other reason that to invoke that surreal, Lynchian sensibility. These are a few of our favorites:
Ultimately, these examples serve as a good reminder that, when it comes to explainer videos, it's important (creatively, that is) to keep in mind who is doing the explanation.
3. More Than a Compliment (aka the Power of Animation)
My very favorite thing about this short is that it demonstrates the storytelling power of animation. The power to serve as more than just a compliment to audio.