Animated video is versatile. Animated explainer videos are a great way to educate viewers,  launch a disruptive startup, sell an innovative new product, and build brand awareness. However, animation can do a lot more than that.
Animated video is just flat out engaging in ways that live action simply can't match. And animation is coming to media in ways that you can't imagine. Case in point, the new album, Humanz, from animated super band Gorillaz.
If you're unfamiliar, the Gorillaz are the world's most popular fully animated band and they're already poised to have one of the biggest albums of 2017. And if that last sentence sounds like gibberish to you, maybe it's time you rethink what animated video can do.
Gorillaz: The World's Biggest Animated Band
Formed all the way back in 2001 by Blur frontman Damon Albarn and comic artist Jamie Hewlett (Tank Girl), the cartoon four-piece band challenges literally every notion of what a band—and entertainment in general—can be. Each cartoon member has an interesting personality, rich backstory, and strong characteristics. Each character doesn't feel "designed," even though that's exactly what they are. The band lives and breathes independently from its creators. In fact, to the casual observer the cartoon band is as real as any other pop creation. And that's the whole point of animation—to animate and give the realistic illusion of life.
Gorillaz just takes that idea to the next level with animated music videos that make viewers believe.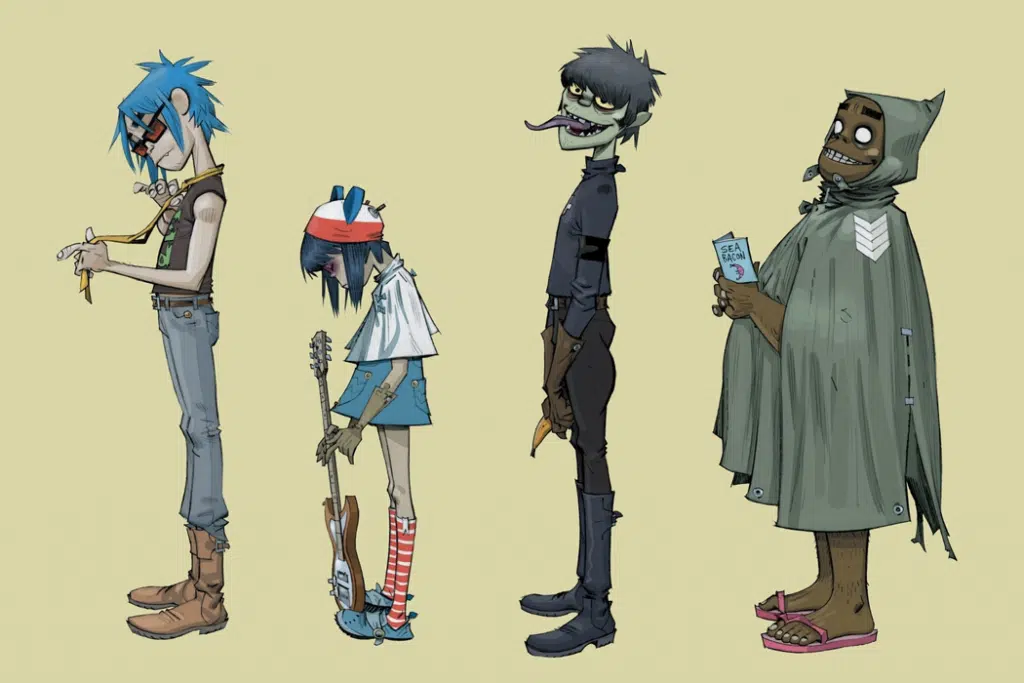 Each Gorillaz album credits the band members on each track—2D (singer), Noodle (guitar), Murdoc (bass), and Russell (drums). Albarn doesn't appear on the record at all, even though he wrote the songs, and it doesn't matter. People accept the fantastic animated music videos as authentic.
And that's all that matters.
Animated Video is Authentic Storytelling
Animation is a powerful tool that lets storytellers craft their own unique world. Animators design characters that people connect with, unlike live action actors, and the result is a suspension of disbelief that lets you completely immerse yourself in the animated video.
"Reality" is irrelevant. All that matters is that you engage with the story and the message. Albarn addresses the reality of the cartoon band in an interview with Radio 1's Steve Lamacq:
"Everything seems so manufactured these days. We just felt that, let's just sort of play everyone at their own game, and make something better, that's manufactured, that's actually good."
The real strength of Gorillaz is that it shows how all entertainment is storytelling. Brands can embrace the fact that their making marketing material, and as long as it's done with transparency and authenticity, viewers will love it. Gorillaz is simply more obvious about the way they tell the story, and people connect with that.
Why Use Animation at All?
If the concept of an animated band seems like too much effort, you're not wrong. Animation is labor intensive and not part of a typical production. However, there are some lucrative benefits to animated video. The biggest is engagement.
When asked, "Why animation?" Albarn answers in the best way possible—it's about the viewer, not the band:
"[Animation] demands that people use their imagination more than pop music generally allows for these days."
In another interview with Metro UK, back in 2009, Albarn elaborated even more:
"It requires a leap of faith. If you can believe in figures such as Eminem and Marilyn Manson, why not get your head around something which takes that to its logical conclusion? Gorillaz is about trying to destroy that and take it further, to manufacture something with real integrity."
And animated or not, Gorillaz is the real deal.
Gorillaz' "Saturnz Barz:" The Future of Animated Storytelling
Gorillaz have already tackled sold out live shows in London, platinum albums, and chart topping success, not to mention multiple animated music video hits with 60+ million views.
Gorillaz have proven the versatility, longevity, and raw popularity of animated video time and time again. Humanz, and the epic animated music videos, only pushes online video into the future. Saturnz Barz is a fully immersive, interactive 360° video that lets viewers explore a haunted house along with each of the four band members.
360° video has been done before, but this is one of the best examples of the style. Frankly it's an argument for more branded interactive video. Animated video is an evergreen video marketing asset that scales to fit any campaign.
Animated Video is Here to Stay
Animation is already one of the most engaging marketing tools in any brand's playbook, but the decades long run of popular animated characters, like Gorillaz, is a true testament to the engaging power of animation in any setting.
Animation is surprisingly versatile. Contact us today to see if our animated services are right for your business.