The future of marketing is online video. Video already makes up more than half of all internet traffic, and a new report from Cisco claims that online video will be responsible for as much as 85% of internet traffic by 2019. People prefer video. It's helpful, easy to watch, and engaging, but what's more interesting than the rise of online video is the shift toward mobile video and micro content on social media platforms like Instagram Snapchat.
Mobile video overtook desktops in 2017 as the dominant form of online video, and as viewers become increasingly mobile, videos are adapting to match shortened attention spans and instant gratification. The future of marketing is online video, and the future of online video is micro content. Transform your video marketing strategy with micro video content and catapult your brand into the future.
Here are a few of the best micro video content examples from 2017, as well as a look at the future of short form online video. Snapchat, Instagram stories, and all the rest are here to stay. Learn how to make micro video work for you and your brand with these how to's and best practices for mobile video and micro content.
What is Micro Video Content?
If you're new to the game, micro video content, or short form online video, is simply a short style of video. Micro videos can run anywhere from a few seconds up to one minute, although it's best to keep micro video to 15 seconds or less. Popularized by Vine, the micro video arm of Twitter, videos ranging anywhere from 6 – 15 seconds took the internet by storm, providing a way for brands and creators to reach millions of people in just an instant. And while Vine is gone (as of 2016), many other micro video content platforms and extensions have risen from the ashes to account for a large percentage of total online views.
Micro Video: Increasing ROI
You might wonder, why are brands, creators, and even viewers investing any time in a video that only lasts a few seconds? What's the point of making a video that's over in a heartbeat? The answer is ROI.
First and foremost, micro content is extremely efficient to produce. Traditional length video content requires a number of shots. Even 60 seconds of animation demands a few transitions, wipes, or cutaways. Every shot, scene change, or transition means extra production, which takes time and money. You don't have that with micro video content.
Live action creators typically use one shot, often handheld. Micro video animations typically focus on a single action or transition. In terms of sunken cost, micro content is vastly easier, quicker, and cheaper to make. If your viewers are still engaging and sharing the content, that's a major net benefit in terms of your ROI. It's simple math. Plus, the DIY feel often creates a rapport and trust between viewers and brands. The shorter content is easier to view (less of an investment on their part too!) which means they're more likely to watch the video in its entirety, and thus more likely to identify with your brand and even act on your video's CTA (if it's done properly).
Micro video is a surgical instrument instead of a chainsaw. It's easier to produce, more nimble with time sensitive messaging, more authentic, and ultimately more relatable to the growing majority of mobile users.
Micro Video: Restrictions = Value
If you know any artists or creators they'll tell you that limitations are a good thing. It's boring to play tennis with the net down because a game without any rules is a game without any thought behind it. The same is true for video productions.
"The beauty of a micro-story is that you leave a lot to the audience's imagination. Less is more," argues Laura Ayala, a video producer from Pace videos. Ayala goes on to share her love of bite-sized video content:
"I'm a big believer in not spelling things out for an audience because it assumes their intelligence. In an age of consuming video content, you don't have to spell it out. A brand doesn't have to go into all of the features of a product because we'll just look it up online anyway. The primary purpose of a micro-story should be to engage, to spark an interest. That's all you need to know."
You can make any kind of video you want. It can be six hours long and full of star wipes, but no one is going to watch that. When you set parameters for your production—like a 15-second time limit—something magical happens. You get focused. Time limits boil your meandering video script down to a few important lines. Your list of shots and out of focus zooms becomes a clear, focused static shot. Your message gets tightened and you just plain communicate better.
 Micro Video Content: Ben & Jerry
This micro video smoothie recipe from Ben & Jerry's Instagram is a master class in providing value to viewers.
In 15-seconds they manage to demonstrate how to make delicious—and interesting cinnamon bun ice cream sandwich. The instructions are easy to follow, compelling, and packed with immediate value. You can make this treat after watching this short video tutorial. All you need is a cinnamon bun and a pint of Ben & Jerry's ice cream, of course.
What's even better is that if you want this or other recipes, you can just click the link in the description or at the end of the video and visit their site. That's a perfect combination of brand awareness, value, engagement, and a strong CTA. What you won't find in this video is tired, unnecessary messaging. Viewers don't care about the history of the company, or their long standing commitment to top-quality ingredients. Those things might be true, but right now, all I care about is learning how to make a delicious milkshake with some frosty ice cream.
Don't get me wrong, not all content is better when it's short. We've covered some fantastic 5-minute animated TedEd videos, as well as some insightful RSA whiteboard videos that stretch to the one-hour mark. Not everything should be crammed down to the attention span of a goldfish. However, shorter videos provide more value per frame than practically every long-form video online today.
Micro Video: Evergreen Content
You might feel out of place with micro video content. You're not a tween on the Snapchats and the Instatweets. It all feels a little overwhelming and you want to stick with what's worked in the past. That's great, because micro video doesn't have to replace your traditional video marketing strategy. The beauty of these little videos is that you can create dozens of these resources using the video footage you already have.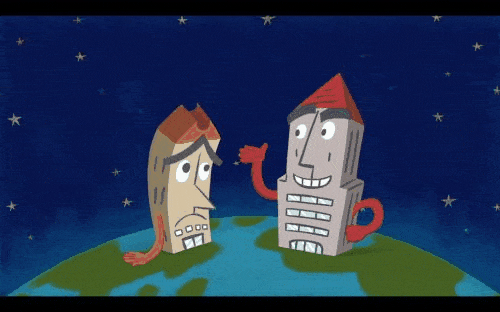 GIFs, Cinemagraphs, and Video Clips
Some of the most shareable micro video content are animated GIFs. These moving images range from artful cinemagraphs to quirky memes and looping images of text. It's really up to you. One way to get into the social media game with micro video is to chop up a few compelling segments of already existing video into 6-second clips. These two GIFs are just a couple examples from some of our animated explainer videos.
Click this link for tips and more info on how to create these simple animated GIFs using the video you already have. There's nothing like upcycling old content to supercharge your social media strategy.
Micro Video Content: Segment Your Audience
Segmenting your audience into smaller, more clearly defined "custom audiences" is perhaps one of the best ways to use micro video content. Instead of posting the same blanket message to all your followers, micro video allows you to target users on Facebook and Instagram with short videos about niche interests. Buzzfeed is particularly great at this.
Buzzfeed created multiple social media channels and accounts to target motivated users in unique silos of interest, and micro content is the chief way they engage with this powerful influencer driven communities.
Buzzfeed's "Nifty" Instagram—a DIY and craft inspired account with over 2.5 million followers–is just another in a growing list of targeted micro video content empires, like Home Depot and Target.
Micro Video: Timely & Targeted
When it comes to product launches, seasonal events, and real-time engagement with your potential leads, there's really nothing more powerful and immediate than micro video content. These short videos keep branding on message, and focus on the features and innovations you want to share with your viewers—no matter how big or small.
McDonald's announced their new seven dipping sauces with a clean simple micro video on Instagram, and they're not the only ones embracing the power of micro video. Mashable's Instagram account is completely micro video content. Every single post is a short video announcing some new gadget, gizmo, or innovation—and people love it. Most videos have over 10k views, and Mashable's subscriber base is over 500k people. That's incredible reach and engagement for a few 15-second videos.
Micro Video is the Future of Online Video
The future of marketing really is video. Video results already encompass more than half of all internet searches, and mobile video views overtook desktop devices in 2017 as the dominant form of online video. People want video on the go, which means they want micro content. Transform your video marketing strategy with micro video content and catapult your brand into the future.
Micro video is:
Easy and cheap to produce
Designed for social shares
Perfect for time-sensitive and seasonal content
Great for creating custom audiences and building communities
For more information on how to make online video a part of your marketing strategy, download our free eBook, How to Succeed with Animated Video.