Facebook video ads are a scalable way to reach a huge pool of potential customers. Over the years, Facebook has added new video formats, like live streaming, interactive video, and dynamic vertical video formats. But navigating these changes, and competing in this crowded space takes strategy. We'll show you the 11 Facebook video ads best practices that can maximize your results. 
Before we jump in, here's a pro tip: Facebook Ads Manager is a different, more robust tool from the built-in Ad Center accessible from your Facebook Page. If you're boosting existing posts, Ad Center is a useful tool. For more control and customization options, use the Ads Manager.
Now on to the best practices for video ads on Facebook!
1. Keep It Short and Focused
If you're asking yourself "How long can video ads be on Facebook?" you're asking the wrong question. Just because you can create a 4 hour long ad, (yes, really) doesn't mean you should.
So how long should Facebook video ads be? Ideally, 15 seconds or less. 
That may not seem like a lot of time, but remember, your goal shouldn't be to outline every benefit of your product or service. You're just trying to grab attention. Short, eye-catching ads will outperform longer-form content pretty much every time. Shorter content is also less likely to annoy viewers.
2. Nail the Technical Specs
The best video format for Facebook ads is MP4, MOV, or GIF with a maximum file size of 4GB. Video dimensions for Facebook ads are greater than 120 pixels square with a resolution of at least 1080 by 1080. 
Keep in mind that the recommended aspect ratios change depending on your ad placement.
Facebook Feed: 1:1 for desktop or mobile or 4:5 for mobile only
Facebook Messenger, Instagram Reels or Stories: 9:16
Instagram Feed: 4:5
In-Stream Video: 16:9 or 1:1
Facebook Business Explore: 1:1 or 4:5
Make sure you understand key aspect ratios so you can create an ad that looks great.
3. Optimize Facebook Video Ads For Mobile
More than half of total web visits come from mobile phones and tablets. Among Facebook users, more than 95% use their smartphone to access the platform. That's why most ad placements, as well as live video streaming capabilities, are optimized for vertical video first. Optimizing your video for vertical viewing is just a good idea.
Here are a few quick tips for making vertical videos: 
Fill the whole space
Avoid quick pans and sideways motion
Speak directly to the camera
4. Define Your Target Audience
Whether you're making animated Facebook ads or live action content, the best videos are made for a specific audience. Start with a customer persona that can inform your creative development ad targeting. 
Facebook has a robust set of ad targeting options to help you focus on the audience you're hoping to reach. These include:
Location: the city, area, or country where your ideal audience lives
Behavior: target audiences that use particular devices or exhibit certain consumer behaviors such as searching for a product or service similar to yours
Demographics: age, gender, education level, job title and other identifiers
Connections: Include or exclude people who are already connected to your Facebook page.
Interests: hobbies, favorite movies or shows, or topic areas
People who like your page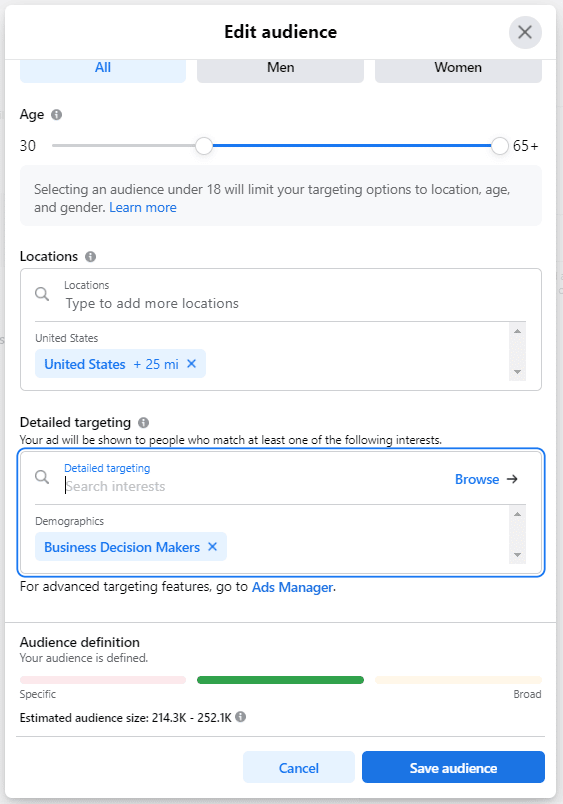 Advanced targeting tools for Facebook Video Ads
Retargeting: Used to show your ad to audiences who have interacted with your website, app, or other online properties. You'll need a Meta Pixel to do this. 
Page-like Lookalike audience: Build an audience of people with profiles similar to your existing followers.
Custom audiences: Upload a list of your customers or website visitors to find those users on Facebook. You can also build custom audiences based on demographics or psychographics.
5. Capture Attention Immediately
You have just a few seconds to capture the attention of a user on Facebook. Your ad will autoplay as the user scrolls, so that first image has to be eye-catching and scroll-stopping.
The best video ads for Facebook pack a visual punch in the first three seconds. Keep in mind that:
Movement grabs attention
Your logo should be visible but not overpowering
On-screen text helps viewers engage.
In short, choose the first frames of your video carefully. Even if users keep scrolling, you want that first image to lodge in their minds so your brand begins to feel familiar.
6. Plan For The Sound of Silence
In the previous tip, we didn't mention anything about using sound to grab attention in those first few seconds. That's because about 85% of Facebook videos are watched without sound. Even on desktop, most people tend to keep their videos muted. 
Design your ad so that viewers can understand what's going on without unmuting. That could mean adding captions, or just creating a highly visual ad without voiceover. Make use of motion, on-screen text, and other visual cues to convey your message.
7. Include A Clear CTA on Every Facebook Video Ad
Just watching your ad isn't enough. In most cases, you want viewers to take action, too. That action could be to click on your ad, follow your page, sign up for your newsletter, or place an order. The best way to make sure viewers will take the right action is to tell them exactly what to do!
In both the ad copy and the video itself, you can encourage viewers to take action with a compelling call-to-action. 
Steps to a clear CTA:
Choose a goal
Define the problem, then offer a solution
Create a sense of urgency
Choose a CTA format that fits your video
Every Facebook video ad includes a button in the banner below the video. Facebook will give you a list of options to choose from. Select the one that best matches your goal for this ad. Common goals include: awareness, traffic, engagement, leads, and sales.
Your button text can go beyond general CTA's like "learn more" and "shop now" to encourage a more specific action like "buy tickets," "get quote" or "order now."
8. Use Your Words
A highly optimized video is a great start, but don't forget about your ad copy. The text you put around your video can help viewers decide if they really want to follow your CTA.
Here are some best practices for video ad text:
Keep it short and informative.
Match the tone and style of your video.
Use emoji (even if it's just check marks or colorful bullets).
Bullets make longer text more readable.
If you use the Facebook Ads Manager, you'll get a multiple text option that allows you to create multiple versions of your primary text and headlines. with different headlines and descriptions. Meta uses AI to decide which headline and primary text combination to personalize the ad each time it is shown.
9. Keep Brand Top-of-Mind
Your ads represent your brand. When creating a Facebook ad you don't just want to sell your product or service, you also want to deepen their awareness of your brand.
That doesn't mean you need to hit people over the head with your logo, or repeat your tagline five times every video. Great video branding is usually a lot more subtle than that. The right color, tone, and style can go a long way toward branding your video. To get this right consistently, make sure you have video branding guidelines in place. All ads should use the fonts, colors, logos and characters users associate with your brand. Animated Facebook ads should use character designs and animation styles that match your brand.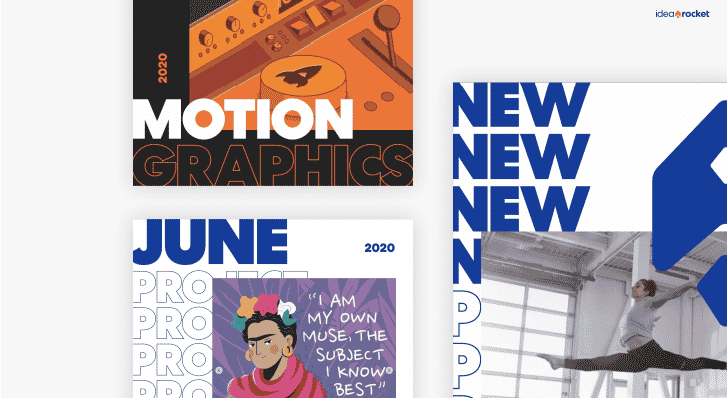 10. Aim for Authenticity and Quality
The best Facebook video ads balance authenticity and quality. Your goal should be not just to sell something, but to build a relationship with current and potential customers. You do that by delivering quality videos that allow your brand's unique personality to shine through. 
How to be authentic in ads:
Tell real stories
Be original
Highlight brand principles and values
Keep it simple
Simple doesn't equal low quality. You still need to meet technical standards and deliver clear audio.
11. Choose the Right Bidding Strategies
Although the internet seems infinite, there are only so many ad spots available on Facebook. You bid to earn one of those spots. Since bidding happens in fractions of a second behind the scenes, your job is just to pick the right bidding strategy to achieve your goals.
Unless you're a Facebook Ad pro (in which case, why are you reading this?) you should probably stay away from manual bidding, but there are still plenty of options. The chart below offers a quick look at the automatic bidding strategies: 
Smart marketers use the bidding strategy that matches their key performance indicators. So start with the goal and match your bidding strategy to it.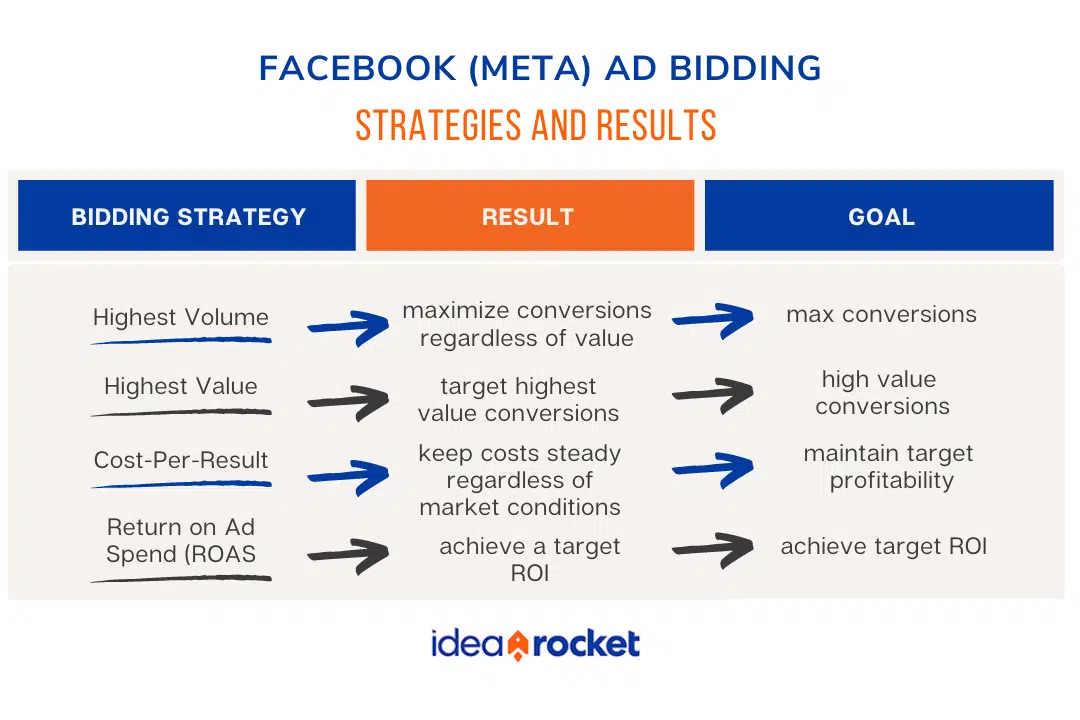 Optimize Facebook Video Ads
Facebook is an affordable way to enter the video ad space, even for small brands and startups. Take the time to create a quality video, then follow Facebook video ads best practices to achieve the best results with every ad.
For help with video creation and ad placement, contact the video marketing experts at IdeaRocket. We create videos in 2d and 3d animation, whiteboard animation, and live action. Our clients use their videos to explain tech products and services, for healthcare purposes, to communicate with employees or to advertise on television, among other uses.